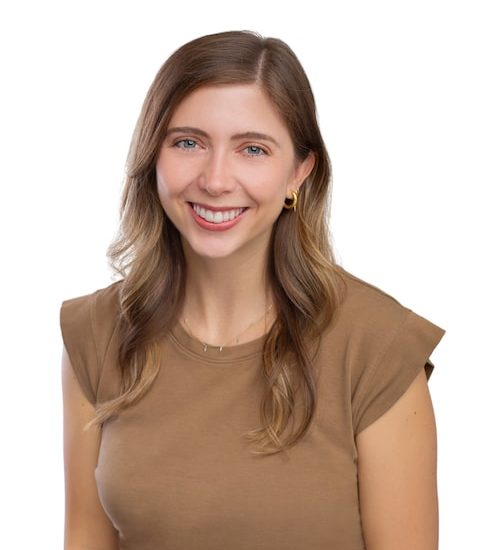 ---- Client Relations Director ----
Embodying the perfect mix of educational training in marketing, a savvy spirit, and a genuine passion for making a difference, Olivia Cooper joined the Green Apple team as an Account Executive before assuming her current role as Director of Client Relations. Olivia provides oversight and strategic direction on all client accounts. Olivia also plays a valuable mentorship role on the Client Relations team, offering training and guidance to help team members grow their abilities and skills under her leadership. 
A Gulfport, Mississippi native, Olivia attended Mississippi State University, where she majored in Business Administration with a concentration in marketing, management, and international business before completing her master's degree in marketing from Nashville's prestigious Vanderbilt University. While at Mississippi State, Olivia first studied interior design while working with Music Maker Productions, a student-run organization that puts on concerts. In this role, Olivia's strong organizational skills took root, as she was charged with event planning and marketing. Her involvement with Music Maker Productions ultimately led her to become a business major, as she developed a genuine interest in marketing-related opportunities.
Upon graduation from Mississippi State, Olivia served at the Mississippi Gulf Coast Chamber of Commerce, where she worked with the young professional organization and leadership program. "I had the rewarding opportunity to do event planning and marketing for those programs. It was an honor to help young professionals extend their networks and grow professionally," said Olivia. After a season in her chamber role, Olivia moved to Nashville to attend Vanderbilt University. During her time at Vanderbilt, Olivia gained hands-on marketing experience while interning at redpepper, a Nashville-based marketing agency. This experience affirmed her desire to work in an agency environment.
While searching for career opportunities after graduation, Olivia discovered Green Apple Strategy, and she was immediately drawn to the smaller, boutique marketing agency environment. "I love the dual focus of my work. I'm able to help guide clients through our marketing process while also supporting my team internally as we aim to exceed client expectations," says Olivia.
Beyond the office, Olivia and her husband, Justin, reside in the trendy East Nashville community with their dogs Ollie and Griffy. "After being here since 2017, Justin and I are proud East Nashvillians. It's a scrappy, creative part of Nashville, and there are always fun, unique things to do and new places to explore," Olivia says. In her spare time, Olivia loves concerts and live music, baking and cooking, painting, crafting, and pretty much anything creative. She currently serves as the Development Chair on the board of Fannie Battle Day Home for Children. She initially joined the organization as an intern after her completion of the Young Leaders Council program and has also served as the board's Strategic Planning Chair. Olivia and Justin also enjoy exploring Nashville's newest restaurants and venues, especially some of the local craft breweries. Green Apple is proud to have Olivia on our team.